Toyota NZ engine
Jump to navigation
Jump to search
| | |
| --- | --- |
| | This article is written like an advertisement. Please help rewrite this article from a neutral point of view. For blatant advertising that would require a fundamental rewrite to become encyclopedic, use {{db-spam}} to mark for speedy deletion. (November 2008) |
The Toyota NZ engine family is a straight-4 piston engine series. The 1NZ series uses aluminum engine blocks and DOHC cylinder heads. It also uses SFI fuel injection, and has 4 valves per cylinder with VVT-i.
1NZ-FXE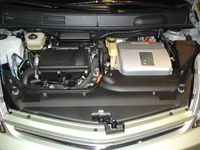 The 1NZ-FXE is the earliest 1.5 L (1496 cm³) version built in Japan. Bore is 75 mm and stroke is 84.7 mm. It features forged steel connecting rods and an aluminum intake manifold. The engine has a high physical compression ratio of 13.0:1, but the inlet valve closing is retarded. The net result is that the engine has a greater effective expansion than compression – making it Atkinson cycle, rather than the conventional Otto cycle.
The reduction in cylinder charge means reduced torque and power output, but efficiency is increased. This combination makes the 1NZ-FXE suitable for use with the Hybrid Synergy Drive, where peak torque and power demands can be met by the electric motor and battery. Output is 57 kW (76 hp) at 5000 rpm with 115 Nm (85 ft·lbf) of torque at 4000 rpm.
Applications:
The 1NZ-FXE Hybrid Synergy Drive in the Toyota Prius has won several International Engine of the Year awards:
1NZ-FE
File:Toyota 1NZ-FE Engine 001.JPG The 1NZ-FE is a 1.5 L (1497 cm³) conventional Otto cycle variant of the 1NZ-FXE. It has the same bore and stroke, but the compression ratio is lowered to 10.5:1, and it features VVT-i. Output is 80 kW (106 hp) at 6000 rpm with 140 Nm (103 ft·lbf) of torque at 4200 rpm.
Applications:
2NZ-FE 1.3 L
The 2NZ-FE is a 1.3 L (1298 cm³) version built in Japan. Bore is 75 mm and stroke is 73.5 mm, with a compression ratio of 10.5:1. Output is 63 kW (85 hp) at 6000 rpm with 121 Nm (89 ft·lbf) of torque at 4400 rpm.
The Toyota 2NZ-FE 1.3 L engine was built in 1999 with Otowa Yama as the head engineer of the project. In 2004, Toshima introduced the VVT-i system on the 2NZ-FE to improve fuel efficiency and emissions. VVT-i is now a feature of all current Toyota engines.
Applications:
See also
Categories
:
Wikipedia articles needing style editing from November 2008
All articles needing style editing